How

To Survive Spring Break

Not got the funds to jet off to Florida to live the spring break dream for your stag weekend? Croatia has her very own spring break festival in June, on the party island of Pag, so a Croatia stag do could be the answer to your blues. Great news for us Brits, who've had to make do with the Easter holidays and half term all these years. All day drinking, all night dancing, sun, DJs, boat parties, girls, more girls, even more girls in tiny bikinis. You've seen Spring Breakers.

If you are up for a big blowout in Vegas, Ibiza or Marbella, you can get the same effect at pool parties and on party boats. Then of course there's the legendary Cancun stag do, Mexico's version of Vegas.
Sun's out, guns out
Better get down the gym now. Beer bellies can be sucked in. You can't fake pecs or biceps.
Pack LOADS of suncream
Tans are hot. The lobster look is never going to catch on.
What happens on spring break, stays on spring break...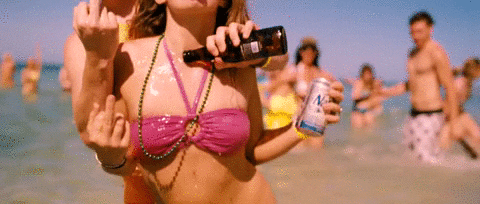 Unless of course it's plastered all over Facebook. There's a time for tagging. This isn't it. A few pictures are fine. The stag doing shots out of the belly buttons of hot girls in bikinis at 2am? Not so good. Girls licking whipped cream off his chest probably won't go down too well with the bride either. Yes, she'll still know it's him even if his face isn't in the picture.
Try something new and bonkers
You're on a stag weekend. It's spring break. What better time to do that bungee jump , skydive , or go parasailing ? Although not when you're hammered, so probably best to do this first, before you're in full party mode.
Don't getting arrested
Imagine spending the majority of the stag weekend in the slammer, while everyone else goes to the pool parties, club nights and boat parties. It would suck.
If you spot a swarm of fish, get out of the water
You've seen Piranha 3D, right?
Beer bongs happen - drink some water, dude!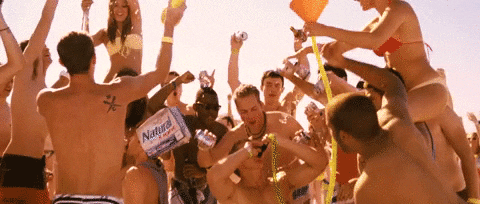 Seriously, your liver will pack up if you don't.
Pack a survival kit
Ok, you WILL have a hangover on spring break. Pack your favourite hangover cures, stock up on water, sunblock, condoms, and painkillers. Spare shorts and sunglasses never go amiss either. Both will come off and be lost forever at some point during the stag weekend. Or get covered in whipped cream. Or both.